Apply – Step 3: Complete the Registration Form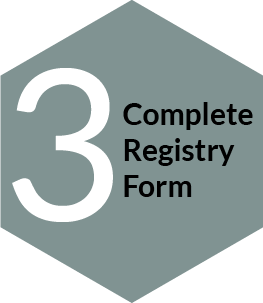 Contact the Kantara Concierge to apply to register your service. You may contact them through email via concierge@idefregistry.org.
They will send you a unique URL, and a special code that you will use, along with your email address, to log in to the Form application where you can record your assessment for your service.
There are five parts to the form once you are logged in as an applicant: four that require information and a 5th that supplies status of the application.
Part 1 – Reporting Entity (Provider's) Information
Part 2 – Assessed Service
Part 3 – Self-Assessment – with a tab for each of the four key areas of the NSTIC Principles – Privacy, Security, Interoperability, Usability
Part 4 – Report Date and Agreement
Part 5 – Status Update: Form In Progress (the tab is initially unavailable and shows the initial status)
The Self-Assessment, tab 3, is the crux of the form where you record your implementation status for each of the Baseline Requirements for the service. There are sub-tabs for each of the four areas with the requirements listed for that area.
You are strongly encouraged to add details to the Comments fields for each Requirement especially for answers other than Fully Implemented. Comments are not required to submit the form, however, you will likely be contacted by the Concierge about answers that are not marked Fully Implemented and do not have comments for further information.
Calculating the Score
Each Status has been assigned points that are used to calculate the total percentage score, based on how many applicable requirements have been assessed. Along with the total score, there are scores for each of the four areas.
Points for each Status:
Fully Implemented = 100 points
 Implementation Underway = 75 points
Under Consideration = 50 points
Not Under Consideration = 0 points
Not Applicable = N/A – Not included in the score calculations
Total Possible Score:

Once you are sure of your answers and comments go to Step 4 to submit the form for review.